Pet Identification Micro-Chips
Effective May 13, 2010, in accordance with the recently passed animal ordinances, it is a requirement for all dogs and cats, 6 months or older, who reside in the city limits of Springdale to be micro-chipped and registered with Springdale Animal Services.
Annual licensing of pets has been discontinued and replaced with one-time microchip registration. For more information, click Springdale Animal Services.
What is Home Again?
Home Again is an advanced lost pet recovery service dedicated to the safety and well-being of your pet. Our system is best utilized when a microchip with a unique ID number is injected between the shoulder blades of your pet, which can be done by a veterinarian if your pet is not already micro-chipped. Once your pet is micro-chipped, the next step is to enroll your pet's microchip ID, description, and photo, along with your contact information, in the Home Again National Pet Recovery Database, which is critical to reuniting you immediately with your lost pet once he is found.
Once enrolled, your pet is entitled to all the additional benefits of the Home Again annual membership, including:
unlimited updates to your pet or contact information online or by phone
24/7 access to our Lost Pet Specialists
Rapid Lost Pet Alerts and Lost Pet Posters
Medical Insurance for Lost Dogs or Cats from PetFirst Healthcare
24/7 access to the Pet Medical Emergency Hotline
and more!

How Long Does the Microchip last?
The microchip has no power supply, battery, or moving parts. It is designed with an operating life of over 25 years and is guaranteed for the life of the animal. Once injected, the microchip is anchored in place as a thin layer of connective tissue forms around it. The chip requires no care. It does not pass through or out of the body.
Does the procedure hurt the animal?
Although the microchip needle is larger than a typical vaccine needle, the general rule is this…your animals will react the SAME way to this shot as they do to any other. No better, no worse. Animals do not over react to it. Their physical performance is not impaired and there is no scarring. You are not injecting any substance that can burn or irritate; the chip is completely bio-compatible and non-offensive.
Can the microchip move around once inside?
When properly implanted, a small layer of connective tissue forms around the microchip, preventing movement or migration of the chip. Instructions and injection sites will vary depending upon the species.
Microchip implant in a cat: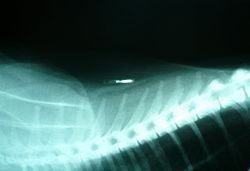 Where is the injection site in puppies?
Puppies are injected between the shoulder blades with a deep subcutaneous (under the skin) delivery of the chip.
How early can puppies be injected with the chip?
Most breeders inject the chip between the ages of five and eight weeks of age. Of course, the injection can also be done at any time after that.
Still have unanswered questions?
Home Again Micro-chips are safe, effective, and easily scanned. For more information on Home Again Chips, feel free to ask us at your next appointment or give a call at 479-751-8060